In this uber-digital world of ours where so much of our personal interactions are online, live events and personal touches can truly make a world of difference in ensuring your studio gives an epic first-impression and also stands out from your competition.
In short – if you have never attended local events in your community, now may be the time to start.
Local event such as street fairs, holiday markets, parades, art walks, outdoor concerts, and sidewalk sales can be a great place to meet members of your community and introduce them to your dance studio.

Before gathering the tools to market your studio at an event, it's a great idea to attend similar events to provide you with a feel of how they work and what kinds of people will be there. Then, you can prepare by doing some research (don't worry, it's the fun kind!)

It is important to gather all of the information about the event you are planning to market your business at so that you have a clear picture of the audience you will be marketing to. If your dance studio provides classes across a number of styles and ages then it's okay to market a general event that has a variety of different kinds of people.

It may seem obvious, but if you are targeting child's dance classes maybe you should avoid setting up at a truckers convention, and instead look for something with an Elsa meet-and-greet on the program. 

Find out if the event is just local or will there be out-of-towners visiting.
Even though the event will be held in your local area, it could potentially be a big event so be sure to research and know how important the event is to its attendees. If the audience is a mixture of local residents and out-of-town residents, you may reconsider your involvement as out-of-towners are not going to be signing up for your dance classes.

Make sure to thoroughly plan your marketing strategy ahead of time.
Depending on what kind of event you're going to be using, if there are important activities throughout the day, you will want to be able to engage and enroll your new customers quickly and correctly. Taking up too much of their time may cause them to leave before you have reached your selling point.

Setting Up Your Booth.

After you have either done your research or attended several similar events, buying a booth may be the best choice to market your studio in a glossy and organized manner. You may be running on 4 hours sleep, frantically texting substitute teachers to cover a class tomorrow and be a hot-mess on the inside, but so long as you are rocking that booth all will be worth it!
Booths can provide a number of benefits:

A booth projects an air of professionalism and assures customers your studio is legit.

It gives interested customers the ability to approach you, so they don't feel pressured into listening to an unsolicited sales pitch.

Using a booth is a great way to display your photos, videos, merchandise and offers allowing attendees to see them from a distance and really grab their interest.

A booth is a great opportunity to get creative with eye-catching colors and visuals. You could have balloons and giftbags ready to hand out, a selfie-station,a dance display (or even better, a live free class). You might even have some mascots walking around or free face-painting to get the attention of those ideal customers.



Speaking with other local businesses who have held their own booths or worked an event can give you tips on what steps you need to take. Not only can they give you advice on what works, but they can let you know what kinds of tactics don't. Every business is different, so some things may work for you that did not work for them, but knowing what drives traffic away can help you more in the long run.
Going The Extra Mile. 
Some extra tips to keep in mind when marketing your studio a local event include:
Run contests or giveaways at your booth. This can be an easy way to attract attendees and make new connections. Everyone loves free stuff!

Allow an easy sign-up at your booth. Having a lead-box or a short sign-up sheet set up at your booth can help you to collect valuable customer info such as mailing addresses or email addresses.

Bring an easy payment method or mobile card-reader to the event.

Have fun and enjoy yourself. Customers want to approach people who look like they enjoy what they are doing. Even if your booth is not as successful as you may have hoped, show care and concern for the customers who do approach your booth.
Community events are a lot of work – even moreso if you aren't organized – but they really are a great way to make inroads with the community and build a great reputation for your studio.
Try it!
For more resources, training and support in growing the studio of your dreams, join our vibrant community of studio owners in the Dance Studio Owners Association. 
Start filling your summercamp classes now!
Build a team that's comfortable sharing feedback, motivated to continually improve & 100% aligned with your studio's values & mission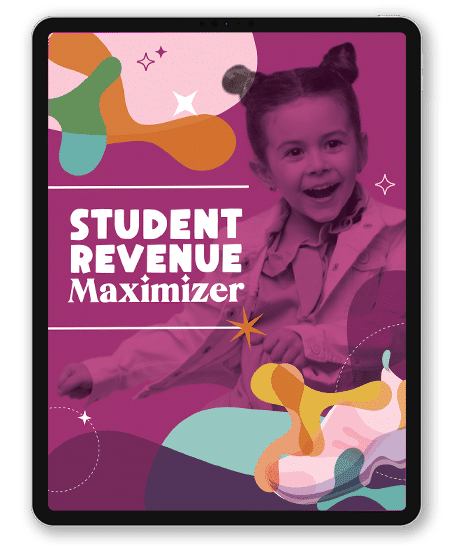 maximize the lifetime value & enjoyment of every student in your studio