With the end of year festivities well under way, now is the perfect time to get into the holiday spirit and bring some magic into your studio. Not only will these fun and revenue-raising tips bring a smile to the faces of your students, but they will also help build and promote your brand in the wider community and boost those retention rates at this time of year which typically sees a lot of students and families dropping out. These simple ideas may take some planning but won't break the bank and will certainly contribute to the positive culture in and around your business.

1/ Get Decorating!
No matter which holiday you choose to celebrate within your studio – and why not celebrate them all? – now is the perfect excuse to get all hands on deck to decorate your studio both inside and outside. Tinsel, lights, trees and gifts can be scattered or piled throughout the studio to get everyone in the holiday mood. If you're not a symmetry-freak when it comes to decorating (and I know many studio owners who take their decoration placement as seriously as their choreography precision) then get your students involved, they will love it! You don't want to spend a fortune, so make sure to scour ebay, online sales, thrift stores or ask your studio families if they have anything they'd like to donate. If you are hiring a space that isn't your own it's slightly more limiting but you never know until you ask. Check in with your landlord if they will permit decorations, or you could also look at portable options that are quick to set up and pull down. Another option is to think smaller and decorate your class lists with tinsel, wrap your speakers with battery-powered lights and get your teachers into some light-up jewellery.

2/ Create A Promotion They Can't Refuse
At this time of year your dance parents are run off their feet with Xmas parties, dance concerts, shopping and work. It's important that you don't expect them to be paying 100% attention to a small last-minute Xmas promotion you are running at the studio one week. Instead, think of a valuable promotion that they will appreciate and won't take much effort from them (for example, a discounted January workshop voucher, or 20% off your dancewear). Create a simple but targeted email campaign that they can't ignore: the best way to do this is a 5 day countdown where they receive a short email daily for 5 days getting them to pay attention that your announcement is coming. Then announce your promotion, followed by 3 days of email reminders. Vary these by including holiday images, videos, voice recordings etc to keep their attention. If you keep your emails short consistent and value-driven your audience is far more likely to pay attention rather than feel hounded or annoyed by the daily communication.

3/ Involve Your Community
This is the perfect time to approach other local businesses for a festive partnership or offer that will benefit the wider community and not just your dance studio. The best and most effective way to set this up would be to plan a community event involving a variety of local businesses. You can provide the entertainment, other businesses can provide food, venue discounted merchandise, stalls – anything you can think of! You can offer discounts to your attendees, showbags and prizes. The main thing to remember here is to market your studio as much as possible in the event. Get your name and a call to action on the flyers, social media event and emails that may circulate. Make sure that you reach as many people as you can at this event which will elevate your reputation in the community while bringing smiles to the faces of each family who attends. On a smaller scale, think about ways to involve other local businesses in your in-studio events and promotions so you can build a great relationship while reaping the rewards of a holiday-themed strategic partnership.

4/ Get Savvy With Your Socials
We know what a powerful tool Social Media can be in the day-to-day marketing of your studio and your brand, so it's important that you keep up your Facebook and Instagram momentum over the holiday period to really boost your profile and keep your business at the forefront of your clients' minds. Some fun social media holiday ideas to implement this season may include:
– Running a themed Instagram competition where dancers use your hashtag
– Creating a 'selfie station' at your studio for students to post and share on Facebook
– Choreographing a themed Flashmob or class dance to be posted on YouTube and shared by family and friends
– Using Facebook boosts and paid advertising to promote your special holiday offer to new clients

5/ Go The Extra Mile
Let's face it – as fun as it can be, the holiday season also brings with it a lot of stress for your dance families, so this is the ideal time to think of some ways to go the extra mile and provide them with a service that they know they can't get from your competitors. How about running a $1 gift-wrapping service on the weekend where your teenage students jump in to gift-wrap your clients' Xmas gifts and donate the proceeds to charity? Perhaps a free decoration and cookie decorating afternoon at the studio for your younger students and their siblings / friends? Buy your parents in the waiting room a coffee in the last week before the break, or post handwritten Xmas cards to your clients past and present. There are loads of ways to take a small bit of extra time and effort that will make a far-reaching impact on your students and their families at this magical time of the year.

For more tips on providing an amazing service to your dance families and boosting your community profile and so much more, join us in the leading educational and training platform for dance studio owners The Dance Studio Owners Association



Start filling your summercamp classes now!
Build a team that's comfortable sharing feedback, motivated to continually improve & 100% aligned with your studio's values & mission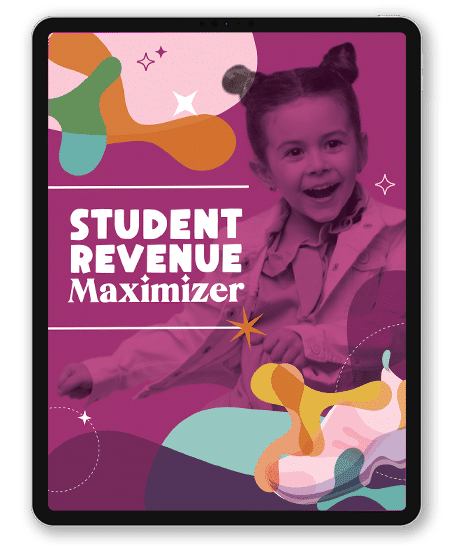 maximize the lifetime value & enjoyment of every student in your studio