By now, you have likely heard how effective video marketing is, but did you know Facebook Live videos receive 3X higher engagement than a video that is no longer live? Facebook Live videos also receive 5X more exposure than standard photo posts at the moment, so if you're not using it to promote your studio then you are missing out on an epic opportunity.

Whether you're trying to raise brand awareness for your studio, get more student enquiries in the door, or increase interaction with your current dancers (hello retention!), Facebook Live is a tool you should be using.

Here are the top five ways you should be using Facebook Live in your dance studio.

#1: To Connect With Your Audience
Do you ever feel like your dance families see you as "just another dance studio"? Well, there couldn't be a better way to connect with your dancers and potential students than live video. It's the next best thing to meeting them in person since the event is happening "face to face" and in real time.

Facebook Live gives you a chance to show there are real, caring humans behind your studio, which in turn builds trust and leads to more students through your door. For example, you may use FB Live to conduct a "virtual tour" of the studio for potential new students or interview your new hip-hop teacher via FB Live as an introduction to your families.

#2: To Answer Questions In Real Time

Interacting with your dancers doesn't have to be limited to when you happen to be checking back in on your Facebook page. Facebook Live allows you to answer your questions in real-time. This gives you an opportunity to engage with viewers when they're most interested.

The best strategy to do this effectively is to create a recurring series – let them know that at the same time each week they will be able to find you online connecting with them and delivering Q&A sessions, recital information, "what to expect in your first class" videos and more.

Hot tip: be consistent with the time and day of the week you go live, feature teachers or staff members that aren't afraid to show off their personalities.

#3: To Showcase an Event to People Who Couldn't Attend In Real Life

Facebook Live is a great way to broadcast events and connect with your students or their families who weren't able to attend. Perhaps it's a dance workshop, a dress rehearsal or a disco, so long as you have a strong internet connection and the permissions to stream the event live, you should absolutely do it!

#4: To Share Dance-Related Updates

Keeping your students and followers informed on industry trends without constantly trying to sell them dance classes is a much more natural way to build trusted followers on Facebook. People will start turning to you as their go-to source to stay informed on industry news, and you'll build a loyal and engaged following.

#5: To Show Off Your Studio Culture

Facebook Live is the ideal opportunity to show off the unique personalities and values behind your dance studio, whether it be strolling around the office and showing off your new waiting area, interviewing employees, or sharing a sneak peek into a studio outing or event. Sharing your culture with your audience has so many long-term benefits whether it be for recruiting new hires, or getting new followers interested in your genuine brand.
Once a Facebook Live video is created it will stay on your studio page for viewers who missed the live event to view. Videos will show up in your followers' news feed during the live event, as well as after the event has ended.

Hot tip: The chances of seeing a video while it's live are now higher since Facebook has updated their ranking algorithm to show more live videos that are streaming in real-time.

Getting Started

Now that you've got some inspiration, it's time to get the wheels turning with Facebook Live. The good news is that it's quite simple to create your first live video. All you need is a mobile device or desktop computer that has a solid camera or webcam and microphone.

Step #1: Select the "Live Video Button"

If you're on a mobile device or going live from your Facebook profile rather than a Facebook company page, a small button will appear when drafting a post that says "Live Video." Select it to get started!

If you're going live from a Facebook page on your desktop, you'll see a box that says "Live Video" below the post box, like the one below.

Step #2: Make it click-worthy

Your description and video thumbnail are by the far the most important pieces of your video. Without compelling copy to entice your viewers, your live video isn't going to get much if any traction.

When writing your copy, ensure it's direct, actionable, and informative, with a hint of mystery to spark curiosity in your viewers.

For example, you may name your video "We had a special visitor at Jenny's Dance Studio today – watch to find out!" or "Miss Lisa's best-kept pirouette tips you can practice at home", then in your description of the video you can give more information as well as your "call to action", such as "Message us today to book your free trial".

Step #3: Get in Position & Hit "Go Live!"

Put on your finest ball-gown, call your make-up artist and style your hair! Or you can go the more casual, authentic route (recommended).

Or somewhere in between – your comfort and confidence is the most important thing.  

Step #4: Click "Finish" Once Your Post is Done

Be aware of where the "finish" button is (at the bottom of the page) so you can give a proper sign-off.

Step #5: Post Your Live Video on Your Page & Make Any Desired Edits

Once you're no longer live, your video can still live on for fashionably late viewers to enjoy.
Share your video on your page, and make any edits you need to the description, thumbnail, captions or more.
Quick Tips For Ensuring Your Facebook Lives Are Always A Success!

Here are some super-easy tips to improve your Facebook Live video recording, leading to more eyes on your content.

#1: Face a Window!

Facing a window will give you a beautiful source of natural light, and make you appear clear in your video frame.

PRO TIP: Remove your glasses when filming! They pick up additional glare, which can be distracting.

#2: Film Horizontally On Your Mobile Device

Flipping your phone to a horizontal view is guaranteed to create a much nicer sized video. Horizontal videos look better all around, especially when displayed on the news feed.

PRO TIP: On mobile, you can also use that little edit button in the top left hand corner to add a beautiful filter and enhance the frame even more.

#3: Create a Few Practice Videos on Your Profile Page

Before ripping the bandaid off and going live, you should test things out by creating a practice video restricted to your eyes only. You can do this by going to your own Facebook profile, and selecting "Only Me" before recording.

This will allow you to rehearse and get comfortable on the camera. It will also help ensure the lighting and sound are up to your standards.

#4: Get Personal

The beauty of Facebook Live is that it allows you to share your experiences in real time, and make a more human connection with your audience. Take this a step further by sharing some bits of your life to connect with your audience on a more personal level.

#5: Smile, and be energetic

Always bring energy and speak with a smile. This is something critical to remember when filming Facebook Live videos because you only have one take once you're live!

Watching a video of an studio owner with an energetic and friendly demeanor will evoke positive feelings in your viewers and keep them hooked. Speak with a smile, wake up with some caffeine, and most importantly, be yourself.

#6: Embrace Small Mistakes

So you stuttered on a word multiple times? Or maybe you had one piece of hair that was sticking up the entire time?
With live video, these mishaps are bound to happen, and these things are actually what makes live video so much fun. Rather than getting embarrassed and ending the video mid-way through, embrace your mishaps. Make fun of your hair, and laugh at the fact that despite your tongue-tiredness today, you still manage to talk your dancer's ears off! This will add personality to your video, and also help your audience see that you're a real human, with flaws, just like them!

#7: Ask Your Viewers to Interact

You're likely aware that posts with more likes, comments, shares, and views are prioritized on the news feed.

To gain more interaction encourage it from your viewers! During the broadcast ask questions, and then ask your viewers to reply in the comments. Ask them to like and share the post. Perhaps even run a live contest asking them to like, share and comment on the post to be entered into a free giveaway
#8 Have a helper

With Facebook Live it can be hard to host your video and reply to comments at the same time, which is why you should have another teacher or office staff member answering your comments in text form, and prompting you to answer the most relevant questions during the actual broadcast.

#9: Call Out Your Commenters by Name

When answering questions over your broadcast make sure you call out the user by their first name. This helps build even more of a connection, and will make them feel special that you chose to answer their question live.

#10: Give a 'call to action'

The worst thing you can do is just casually push the finish button and then walk away. Rather, give a proper sign-off with an actual ending for next steps.

After the broadcast, what do you want your viewers to do? Call to book a free trial? Visit your Facebook page for a discount code? Share the recording on their page? Whatever it may be, be sure to end your Facebook Live post with something actionable for your viewers to do.

#11: Upload a Custom Thumbnail

Your thumbnail image is the first, most prominent thing people will see after your video is live, so you need it to be great!

Once your video appears on your page after recording, click "edit video," and you'll see an icon which will allow you to upload a custom thumbnail image.

#12: Pin Your Post to the Top of Your News Feed

Similar to how you pin a tweet on Twitter, you can pin your live video to the top of your newsfeed to get more traction. Take advantage of this to ensure it's the first thing people see when visiting your page.

#13: Add Captions to Your Video

Captions make your video more accessible to a larger audience. Make sure to add captions to your Facebook video by either generating them through Facebook or uploading your own SRT file.

#14: If Your Video was a Real Hit, Make it the Featured Video

Changing the settings of your live video to a "Featured Video" will allow it to appear front and center on your page, as well as your video page, driving even more eyes to it.

#15: Promote Your Video After The Fact

Once your video is done live-streaming you can boost your post and run an ad campaign just like on your other Facebook videos and posts. Take advantage of the audience and geo-targeting features to get your recorded live video in front of a larger but still relevant audience.

#16: Analyze Your Masterpiece

After your video has been up for a few days, go into your "Insights" tab to gauge how your Facebook Live video performed.

Now you're locked, loaded and ready to rock it on your FB Live feed! For more training, resources and support in growing your dance studio, join us inside the Dance Studio Owners Association.
Start filling your summercamp classes now!
Build a team that's comfortable sharing feedback, motivated to continually improve & 100% aligned with your studio's values & mission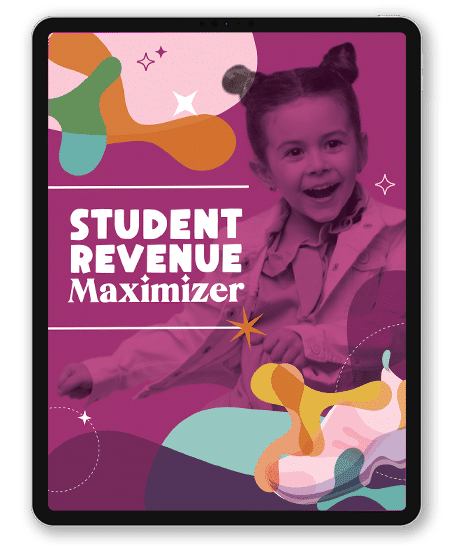 maximize the lifetime value & enjoyment of every student in your studio