We all know that posting daily on your dances studio's social media profile is an important way of engaging with your audience and keeping your brand at the front of potential clients' minds. But be honest – how many times have you found yourself staring helplessly at your screen with a complete mental blank about what you are going to post that day?
It happens all the time!
Sure, you can ask a studio owner or dance teacher to belt out 30 seconds of choreography, and it's already done before you've finished the sentence.
But this is different.
Consistently creating social media posts that people will stop to read can become one of the hardest things on your daily to-do list, especially when you are holding yourself to a high standard of giving unique, valuable and relevant information.
Earlier this month our tribe of studio owners inside the Dance Studio Owners Association received a surprise gift from me with 28 days of social media posts.
They're set for the month!
While the full list is for members only, I thought I would share with you some of the most popular post ideas and give you a well-deserved week off from  Facebook face-palming 😉
Motivational Monday
This is an awesome way to start the week and get your mindset – as well as that of your students – into a positive place right off the bat. You can:
Post inspirational quotes, images, or videos
Feature dancers who inspire you
Share motivational stories or footage from class
Share a motivating blog or podcast
Write your own content to impassion your viewers
Meet The Team Tuesday
Here's a great way to profile one teacher, admin or support team member each week. Make sure to upload a photo of them (professional headshots are awesome, but if you're going for a more casual and friendly feeling in your social media posts, then a wacky, fun or flashback image is even better!), a brief bio and include some fun questions like:
What's something your students may not know about you?
Describe your perfect day
What is your favourite quote?
What book best describes you?
What is your favourite movie?
Name the most unusual thing in your dance bag.
Winners Wednesday!
Here is where you announce a quick competition. This could be a competition within your studio (guess how many jellybeans in Miss Rebecca's lolly jar) or a social media engagement competition (e.g. upload a photo of you dancing somewhere out of the ordinary and whoever gets the most likes/comments/shares will win a prize).
It's up to you how often and how varied these competitions are, but they are mainly aimed at building your friendly and fun culture in the studio and retaining your students who love these extras.
Prizes could range from a free voucher for the studio snack-bar, a drink bottle, or could be higher-ticket items like a fee discount, recital tickets, etc.
The main thing is to keep it fun and consistent, and remember it's an unpleasant look to promote a competition and then forget to announce the winner!
Throwback Thursday
This one you've likely heard of and may already be doing, but a cheeky #TBT post doesn't always need to be a photo of your old troupes in outdated costumes.
How about a throwback to an image of one of your parents watching a community show 5 years ago?
Or asking one of your students to write up a memory from dancing a few years back, then posting it?
Videos are great too, as well as throwbacks of your team.
It doesn't need to be studio specific: you could throwback to an unforgettable SYTYCD moment that will catch the eye of someone who has no involvement with your studio but comes to your post to reminisce.
Lovefest Friday
There are few better ways to wrap up the working week than with a lovefest, so here is a great chance to share the love with your fans and followers. Loads of effective ways you can do this:
Post testimonials from your students
Share a lovely Facebook review or comment you have received
Post an image of your dancers hugging, laughing and enjoying themselves
Shout out to a local business or supporter and tag them in a post that says why you recommend them
Get your classes to make a love-heart pose with their hands/feet during the week and post a collage of the images
Saturday Night (or day) Live
Facebook Live is a hugely valuable engagement tool and for a lot of studios running many classes each Saturday, it's a perfect chance for you to "go live" in each class and share an insight with your audience about what happens inside your studio.
These don't need to be long. One minute is more than enough to give your viewers an inside peek at why you are the "go-to" studio in your area.
Sunday Wrap-Up
It's Sunday, so while you may not feel like spending much time working on your social media (psst…Meet Edgar. He can do that for you) it's also a day when a lot of your target audience is jumping online.
In this post you can share your wins from the week, a 'student of the week', images or videos from classes in the last 7 days, etc.
You can also tease your followers with exciting things planned for the upcoming week, and always give them a Call To Action. For example, "call us today and see what all the fun is about".
For more studio-growth resources, tips and support from mentors who have been exactly where you are, our doors are now open to join the Dance Studio Owners Association.
Start filling your summercamp classes now!
Build a team that's comfortable sharing feedback, motivated to continually improve & 100% aligned with your studio's values & mission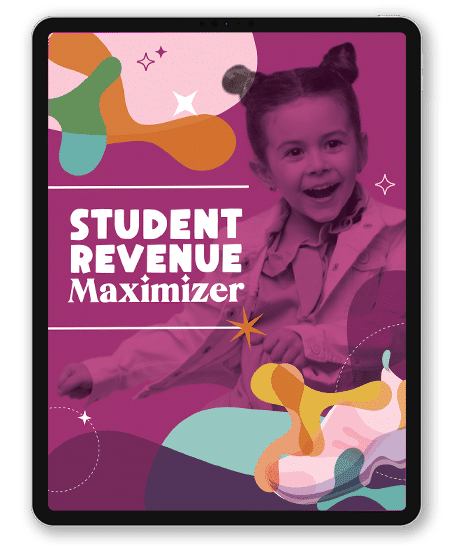 maximize the lifetime value & enjoyment of every student in your studio