Dance Studio Secrets is the Amazon bestselling book by Clint Salter, featuring the extraordinary stories and experiences from members of the Dance Studio Owners Inner Circle.

Pull back the curtains for an up-close and personal look into how other studio owners are creating thriving businesses and fulfilling lives both inside and outside of the studio.
Check out this week's sneak-peek into our Inner Circle dance studios, featuring CEO of Centre Stage Studio, Kim Ritchie!
I have been so impressed with our next featured Studio Owner's growth as she has transformed into the CEO of her studio. It's been a pleasure and a privilege to witness her make a lot of big-picture decisions over the last 12 months and her persistence and resilience has been an inspiration to everyone around her.

– Clint Salter, CEO of the Dance Studio Owners Association
Can you tell us about your transition from Dance Teacher to Dance Studio Owner?
I started quite late into the dance world, I was eleven when I started which is quite late. There was a studio across the road from me and one day I just decided – I'm going dancing with my pocket money. Iabsolutely loved it, and as I got older I helped my dance teacher here and there by teaching and assisting, but my goal in life was to be a psychologist.
I got into university and as part of my degree I also needed to study education, and I absolutely loved it. I loved being a teacher and I was also naturally quite good at it. I got a job in a school and wanted to offer dance in the area because there wasn't much around, so I did an after school club on a Tuesday night for the children.
Eventually a couple of parents from the after school club kept asking if they could join my dance school. I didn't even have one, but I knew there was something there so I started my little dance school and the rest is history.
What drives you in business?

The whole reason that I started up really is because in the town where I am, there weren't a lot of opportunities for children to dance. I wanted to provide a place that was accessible for all, but still very good quality.
I've learned a few lessons along the way, but what drives me is still just making it accessible for all. Allowing everyone to be involved. We are more that just dance now – we offer musical theater, drama, acro; and they can come and do it all under one roof.
It's all about the students. It doesn't matter if they are not the best dancer in the world, I'd much rather they were kind, friendly and gained confidence and that's the biggest drive. We're more than just coming to the studio and achieving distinction in exams. We spend time chatting about life, school and getting to know the students personally. Especially these days, children are stressed out and they need somewhere to let off steam. Dance and the performing arts is one of the best ways to do this.
Who do you look up to, and why?
My dance teacher, Pauline is a huge inspiration. She was my only dance teacher and she did a lot for me. When the studio moved I couldn't get there anymore so I went to her house and she drove me to class. I stayed and she drove me back again. When I couldn't pay for my costumes she allowed me to come and do some work in the shop pay it off that way. She always went above and beyond, so I have taken that attitude into my own studio, and today in the studio if we can help we will. We do try our best to make people feel welcomed and valued, and she has had a big impact on how I run things.
My mom is also a wonderful role model, I was always told whatever you want to do, you can do it. They support me, whether I was going to be a bin-man or a doctor, it didn't matter. Whatever I wanted to be, whatever I wanted to do, I had unconditional support to do it. I've got quite a drive because of that. Whatever I want to do, I know I'll get there somehow.
People in Dance Studio Owners Inner Circle are huge inspirations. I see what they have achieved and their journeys and think, I want to be like them when I grow up!
You've been open for eight years now – what has changed in the business landscape during that time?
It would be the social media influence, and pressures on the students and parents as well. The quick gratification and instant results that are going up on YouTube and Instagram is quite tricky to combat , but that's why it is so important As a studio – to teach children that it takes a long time to learn skills and if you keep going and persevere, you will get there.
We have a set of values and one of them is perseverance so we talk a lot about this. We turn Social Media around so that it can work for us, not against us. We out up lots of posts about technique; we do lots of videos and we are very clear about the fact that they have learnt this as a foundation. It's important to show that we know what we are talking about.
We advertise about our expertise a lot as well to show that we've got teachers here who are going to make sure the children are safe. We are honest with the children about it too, and if they start trying DIY tricks or YouTube tutorials, we say "You can do that, but let's try and make it better so that it's going to keep your body safe in the future" and they understand that. They see it's not a personal attack.
How do you split the roles when working with your spouse to avoid any tension or 'studio-fatigue'?
We've always worked together – we both taught at the same primary school, so working together is luckily we natural for us and we love it. We are both trained in the early years background, and having an under-sevens program in the studio had been a goal of mine for about a year, but I just never got round to it.
It was never happening, getting in classes and monitoring and changing, building the curriculum etc. I felt like I had this big goal that I didn't have time to do. He finished teaching his job at the same time I was going to look for somebody and I said: "This is perfect for you, if you want this role."
Now he looks after all the under-sevens department. He is managing assessments, creating curriculum, and supporting our teachers. He is improving all of our communication as well because parents want to be more involved, they weren't sure what was going on, what the children were doing in class, so he's taken that role on and he's making sure parents are more involved.
We've started parent participation weeks now, so they are coming in at the studio and seeing what's going on. There are more regular newsletters, it's been great having him there and taking on really separate roles in the studio.
---
Kim is the founder and principal teacher at Centre Stage Studio in Thetford, England. Her background in teaching has helped her to create a studio built on strong values, that is known for its inclusion and consideration of the whole student.

She trained in the North East and gained her dance teaching qualifications with the N.B.D.O. and then qualified with the I.D.T.A. a few years later. Prior to opening the studio she gained her Postgraduate Certificate in Education with early years specialism and taught as a primary school teacher for 6 years. Here she was graded 'outstanding' by Ofsted and was a lead teacher in Norfolk for early years teaching. Kim also has a Bachelor of Science degree in Psychology.

She is married and lives with her husband Tim, who is also the preschool programs manager at the studio. In her spare time Kim like to be by the coast, visit family and enjoys the odd spa day! She is also involved in helping the homeless in her local community.
---
JOIN OUR FREE FACEBOOK™ GROUP FOR DANCE STUDIO OWNERS TODAY
AND PREPARE YOUR STUDIO TO "MAKE IT" THROUGH ANY CHALLENGES NOW (OR IN 2021)…
Inside You'll Get Access To…
Exclusive access to upcoming NEW trainings on Student Attraction (for both virtual & in-studio classes) and Studio Success Planning (yes, even in today's times)
Deep dive interviews with REAL Studio Owners sharing how they've found success— despite the challenging conditions in 2020
And most importantly, support from our Studio Growth Experts (plus a vibrant community of like-minded Studio Owners worldwide!)
Start filling your summercamp classes now!
Build a team that's comfortable sharing feedback, motivated to continually improve & 100% aligned with your studio's values & mission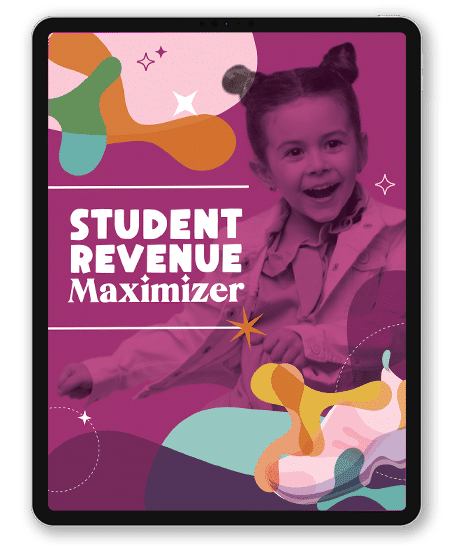 maximize the lifetime value & enjoyment of every student in your studio